Popular with women ★ 7 items 3H all-you-can-drink healthy women's association course 3980 yen ⇒ 2980 yen
Course details
Popular with women ★ 7 items 3H all-you-can-drink healthy women's association course 3980 yen ⇒ 2980 yen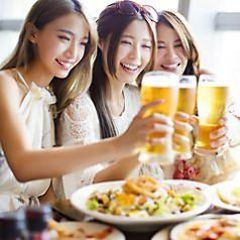 By using a coupon2980 yen(Tax excluded)
Tax excluded
All-you-can-drink available

All-you-can-drink menu
Available days for reservation

Monday - Sunday - Public holidays - Holidays
All-you-can-drink for 3 hours! Appetizer is chef "Recommended" A dish that you can feel the taste of ingredients using fresh vegetables! Salad using fresh fresh fish is healthy and a nice combination for women! Girls-only gathering course focused on health & beauty!
Course menu
1. Today's fresh salad
Salad using fresh vegetables directly from the production area
2. Edamame using large tea beans
There is no doubt that the salted green soybeans will not stop!
3. Butter-flavored potato fries
Unsatisfied buttery flavor with hot potatoes
4.BBQ-style chicken saute
Baked with our original sauce
5. Seasoned vegetables
Chopsticks using seasonal vegetables will not stop
6.Shrimp fried rice
Our famous fried rice with prawns
7. Today's dessert
The last one is a sweet dessert
All-you-can-drink menu
Draft beer
·Asahi Superdry
· Sour
・ Oolong Hai ・ Jasmin Hai ・ Lemon sour ・ Grapefruit sour
・ ◆ Shochu (rock, water split)
· Shochu
・ ◆ Plum wine (rock, water, soda)
·Plum wine
· ◆ Whiskey
· Rock · Water split
· High Ball
・ Soda split
· ◆ Cocktail
・ Cassis orange ・ Cassis soda ・ Campari orange ・ Campari soda ・ Gin tonic ・ Vodka tonic
· ◆ Soft drink
・ Mango Lassy ・ Orange Juice ・ Oolong Tea ・ Jasmine Tea ・ Coca Cola ・ Ginger ale
・ ◇ It can be extended for 30 minutes for +500 yen
・ Last order is 30 minutes ago
2019/10/15 update